Kim Jinhwan (born February 7, 1994) has the stage name Jay. He joined YG Entertainment in 2011, the same day as B.I. He is the oldest member of iKON, a main vocal and lead dancer. He also speaks English, Japanese, some Chinese and Bisaya, making him a popular choice for the main speaker video messages to fans.
Personality Stats

| Stat Name | Type |
| --- | --- |
| Blood Type | A |
| MBTI | ISFP |
| Horoscope | Aquarius |
| Chinese Zodiac | Water Rooster |
Pre-Debut:
Before joining YG Entertainment Jinhwan was a trainee in SM Entertainment. He has strong pop vocals, with a clear tone. He is from the island of Jeju, and has lived abroad in the Philippines.
Survival Shows: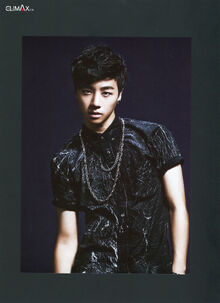 Jinhwan's role as the emotional center of the team has always been apparent since the first survival show. His talent and skill for stage and singing we key resources for the other trainees (especially Yunhyeong). He has a deeply empathetic personality, crying easily with and for others. In the survival show, he often softened Hanbin's harshness with affection and understanding.
In Mix and Match, Jinhwan struggled to open his heart to the new trainees. Focusing instead on tending to the members of Team B. As a leader for his small teams, he often worked twice as hard as the other leaders but failed to protect the trainees under his care. He was hard on himself for this, and it showed nearly every episode. However, none of the others ever blamed him and did their best to show gratitude and affection towards him. When the show was over, Jinhwan was easily the most relieved.
With iKON:
With the hard days behind them, Jinhwan relaxed into his affectionate mother-hen like role in iKON. As the oldest he likes to be there for all the members when they need him. He sometimes struggles with them not taking him seriously, and his own moodiness but it's easy to see that they all do treasure him.
As a vocalist, he shares the main role with Junhoe. Both of them nearly always getting the largest parts in songs. His ad libs and harmonies are masterful, never clashing with the other vocalists or overall melodies. As a dancer, he has a smooth and fluid style that lends itself well to sultry moves. He learns dances quickly, and often gets the center position.